Landboxes
Applications / Data center

Landboxes is a perfect solution for hosting and developing hydro-refrigerated data centers located on the shoreline or off-shore.
Opportunity
Currently there is a big demand for digital services, data processing and storage, cloud internet, digital television on-demand, remote servers for video games, home-working services, telecommunications and video conferencing, computing power for blockchain, artificial intelligence and many other uses.
Features
Landboxes Data Center Unit (DCU) is a Landboxes Application designed to contain and maintain data center hardware and services. It is based on a dedicated Unit, with the ability to create a network of DCUs.
The interior space can be entirely dedicated to the data center facilities and their cooling systems, and the upper level can house buildings, service facilities, antennas, or power generation systems (as in the image).
The DCU admits variable height, depending on the needs of the facilities to be housed, allowing a range of cabin from 30,000 to 80,000 cubic meters (m3), plus 40,000 m3 building capacity on surface. The X-Y dimensions of the Unit do not vary with to the 40 meter-side pentagon.
The DCU can be funded directly on the seabed or supported with piloting or TLD (for depths greater than 25 meters).
Implementation of data centers beside to large urban centers, where there is no space for these facilities, placing them on its coastline. Improving availability and latencies.
Creation of safe environments, in the marine environment, with difficult access and high perimeter security. Hydro-cooling without interruption and at very low costs.
Offshore data centers for transnational corporations, supporting communications networks, specific or deregulated uses, or linked to self-sufficient energy systems..
Design
Landboxes Data Center Unit (DCU) has been designed as a stand-alone part that incorporates all systems, including the hydro-cooling elements.
It can operate independently, linked to a group of other DCU Landboxes or to an urban or other development, based on Landboxes or compatible systems.
Accepts specific design variants for your grounded or floating installation. The foundation can be made by fastening to the ocean floor, with piling, or by tension fastening (TLP).
Synergies
Landboxes Data Center Unit (DCU) can be combined with Landboxes Energy Accumulation Application or Landboxes Energy Collection Application to form autonomous circular economy systems.
Why Underwater Facilities?
More than 70% of the world's population lives near coastline. Building data centers at sea will offer very notable advantages including:
- Easy energy generation and cooling
- Location close to large population centers
- No need to buy expensive land
- Natural protection from common hazards
- Physical security advantages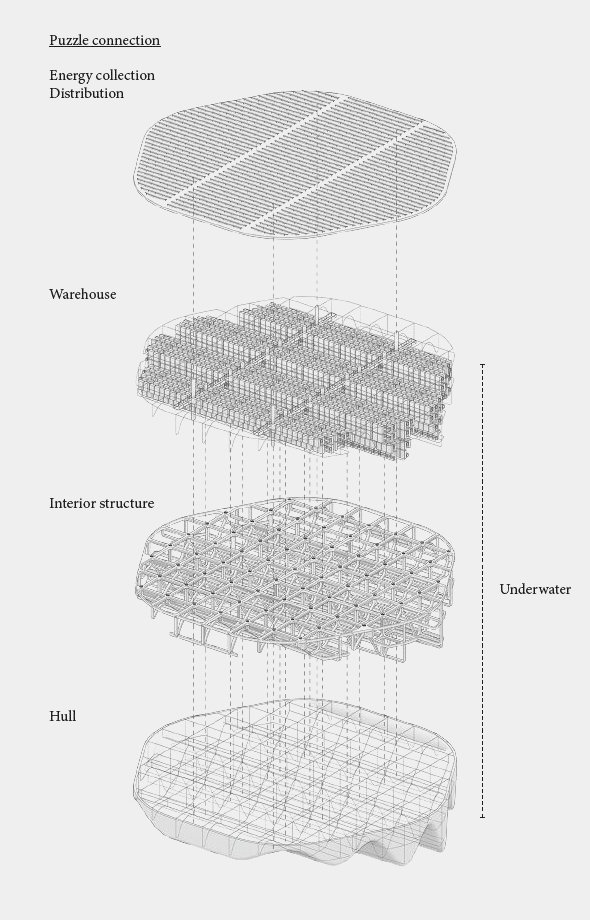 Market
The data center business has grown between 15-20% in recent years, and demand can increase to 30% annually. The investment of the industry is about $ 30 billion annually, and the major players are North American and Chinese: Google, Amazon, Digital Realty, Equinix, Cisco, Huawei, Alibaba, IBM, Microsoft, Apple, NTT, Oracle, China Telecom, and China Unicom. Microsoft is currently leading the development of underwater data centers, with its Natick project, but there are other concerned, and not only among the major players in the sector.
References
ZD Net - Microsoft CEO Nadella: Underwater data centers are the future
https://www.zdnet.com/article/microsoft-ceo-nadella-underwater-data-centers-are-the-future/

DataCenter Knowdledge - Why Microsoft Thinks Underwater Data Centers May Cost Less
https:// www.datacenterknowledge.com/microsoft/why-microsoft-thinks-underwater-data-centers-may-cost-less